I have lots of Little Golden Books. Let's say we are close to 300 books.
That's shameful.
That's embarrassing.
That's just plain odd.
So in my efforts to tidy up the collection I have decided to have another Blogtoberfest give away of those books a) of which we have two copies, b) I just don't feel the groove when I read them or c) that are a little too 'loved' to be worth reading anymore.
So the purpose of this giveaway is not to give away
pristine
Little Golden Books. Dang, you say!! Not that they are dilapidated but they have seen better days. Not all of them. Some are still in great condition!
But wait, there is a method to this madness. These books are great sources of illustrations for framing for your child's room, pictures for Xmas tags or birthday cards, for use in all sorts of crafts and cleverness.
Here are a few examples of what I mean.....
The title of the books in the giveaway are, in no particular order,:
My Home
The Shy Little Kitten
Mickey Mouse and Goofy - The Big Bear Scare
Swiss Family Robinson
The Road Runner - A Very Scary Lesson
Hansel and Gretel
A Day at the Zoo
The Three Bears
The Happy Golden ABC
The Bunny Book
We Help Daddy
Sleeping Beauty

There will be 2 giveaway winners this time. If you would like to be in the draw to win six of these books then simply leave a comment with a funny quote of what the mother is saying in this picture: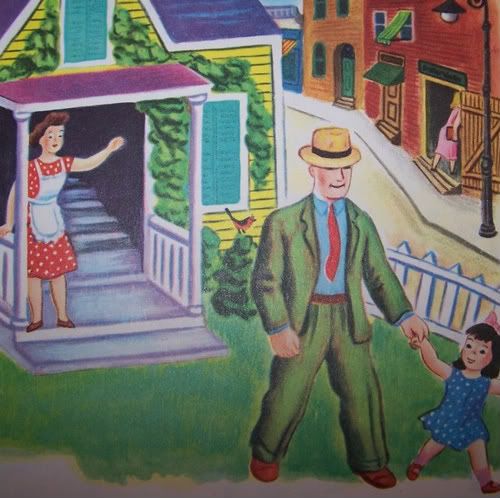 She's waving goodbye at the door to the father and child leaving.... What do you think she is saying???
Comments to be in by 9pm Adelaide time Sunday 26th October.