After my rather serious

last post
,
I have wondered how I would follow such a heavy post. I have a plan to approach next months' onslaught of seriousness and stress with ahem exercise. That's what the doctor ordered. Seriously. Can you imagine how that will cut into my crafting time!!?? The fact is, there is no easy way so I'll just note that right'o, that was a serious, real topic and now on with the show. More real to come though folks!
I've been busy crafting things for my wee poppet, although I can't really call her wee anymore as she's not even four and a half years old and I'm shopping for size 7 clothes for her! Tall, thin, leggy and blonde. Oh dear, the teenage years are going to be hard.
My girl loves a hat so I crocheted this lovely snuggly number from some yarn I had in the stash. The pattern is free and is Olivia's Butterfly by Valerie Whitten available on Ravelry. I crocheted this up in a day and a half working now and then during the day. Easy for a beginner and a very simple pattern.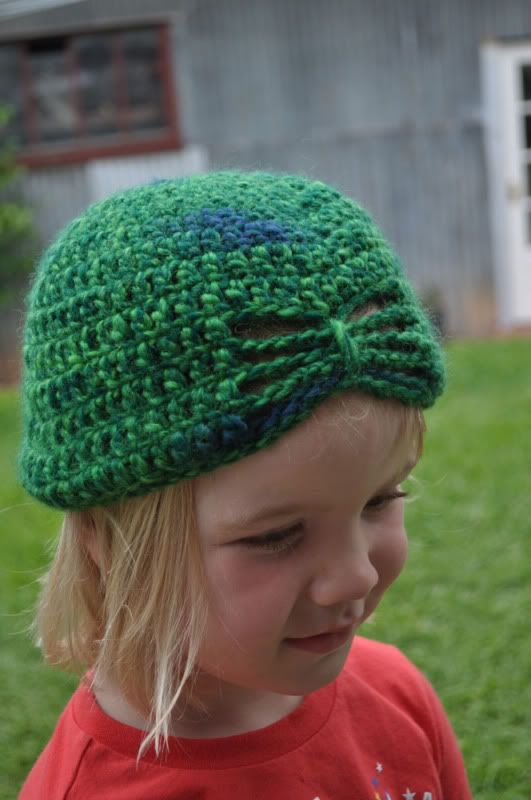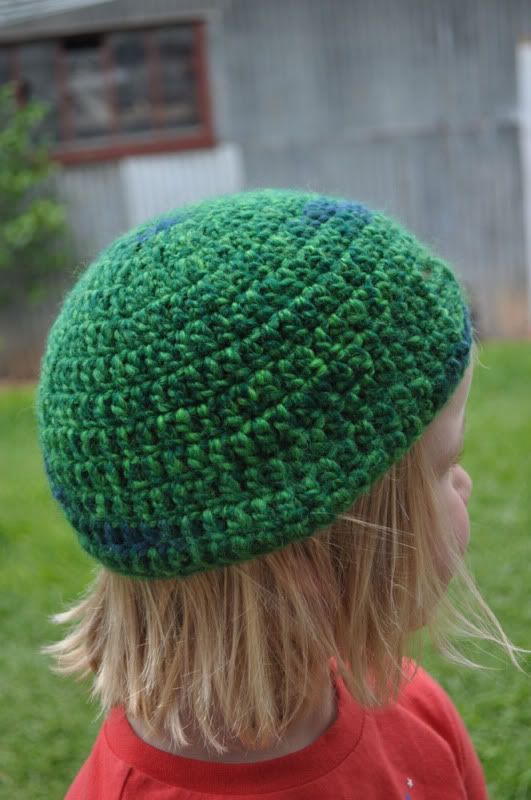 Over the Mother's Day weekend, my daughter and I visited the Stitches and Craft Show in Melbourne. A lovely girls trip to Melbourne is fun but catching a 6am flight is not!! Anyhoo, we caught up with some of my very favourite bloggers, especially Jodie of

Ric Rac

. That woman is The Best. Absolutely. I love her style and recognise more than a little bit of her in me. During Jodie's talk about blogging the speaker next door came in to tell her to keep it down. This a) cracked me up to the point of hysteria and b) is so very familiar, the 'You talk too loud and are too silly' concept! Lots of lovely fabric was purchased at the Show and photos of that are to come.
Of course a young gal needs a new outfit if she is jetting off with her mum to Melbourne, the fashion capital. So before leaving I whipped up a new outfit using Rachel Measham-Pywell's It's Autumn pattern, recently featured on Quilt Fabric Delight's Creative Team blog. Forgive Nevada's look in the photo. It was cold and the poor poppet just wanted to get inside!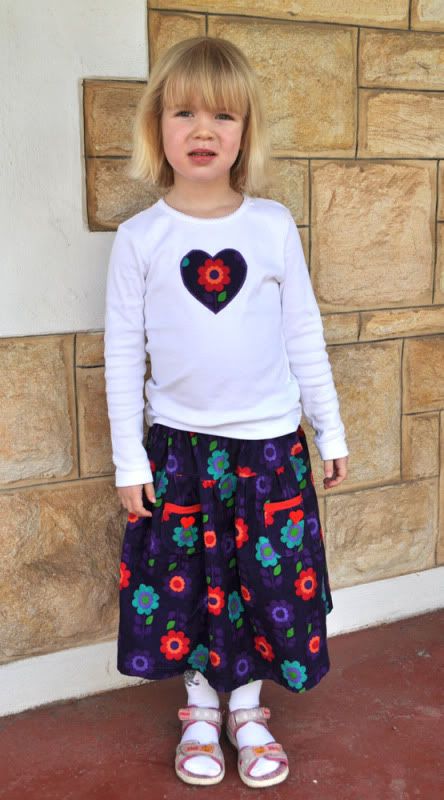 And I have been doing a bit of sewing for myself but it's top-level, secret squirrel, "if I tell you, I'll have to take all of your fabric" kind of hush-hush stuff. It has inspired me to delve into my stash and dare to use some of my vintage 1950's fabric and boy was it delicious to use something so divine.
So now my secret obligations are over, a little Silly Gilly crafting may take place over the weekend. New hair clippy ideas are forming and I can't wait to crack out the hot glue gun!
Till then!
Gillian.