Late last week I was attempting to draft up my own adjusted version of
this dress
. It was proving to be more of a stressful experience than the relaxing one I had envisaged. It turned out I was about half a yard short of the vintage fabric so off I trotted to Spotlight to pick up some plain cotton which would make up the missing yardage.
Truly. I was
only
there to purchase half a yard of fabric. Plain aqua. But somehow I walked out of that very store with a new reproduction vintage pattern in my hand and 7.5 metres of beautiful cotton sateen. The pattern is Vogue 2903.
Figuring I would have the motivation to complete the true vintage pattern once I had had success with the new repro vintage pattern, I set about cutting whilst adding a little to the seam allowance as my measurements were only slightly larger than the size pattern I had. I followed instructions from my 1950's vintage McCall's sewing manual on how to add to the width of a garment so I imagined it would work!
Seems like that pattern drafting course can't come soon enough! The first picture shows the tent that I have sewn and the second is the something of what it should look like if I grab half a metre at the back and pull it in! Some length needs to be taken off as mid calf length isn't working for me. There are reverse box pleats hiding in there but hard to see as I've basted them all in place right now. With the addition of sleeves I think this dress has some promise! And yes I've chopped off my head as I am having a very dodgy hair day and don't want to torture you all with that sight. My little assistant reminds me of
another little girl
who needs to be in her mummy's dress shots....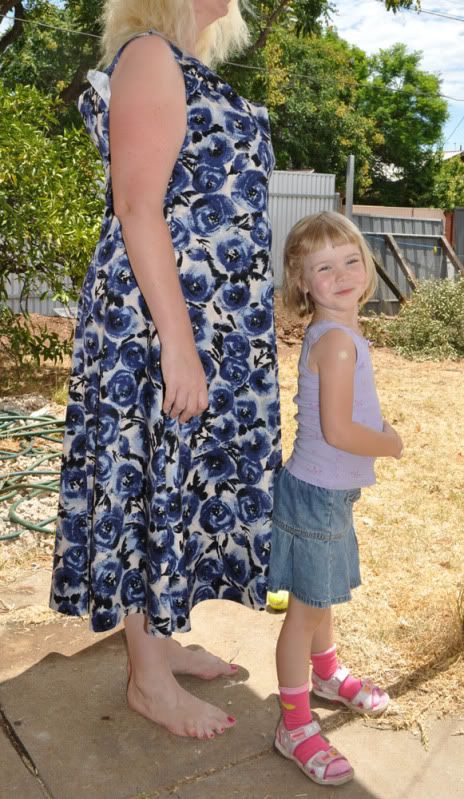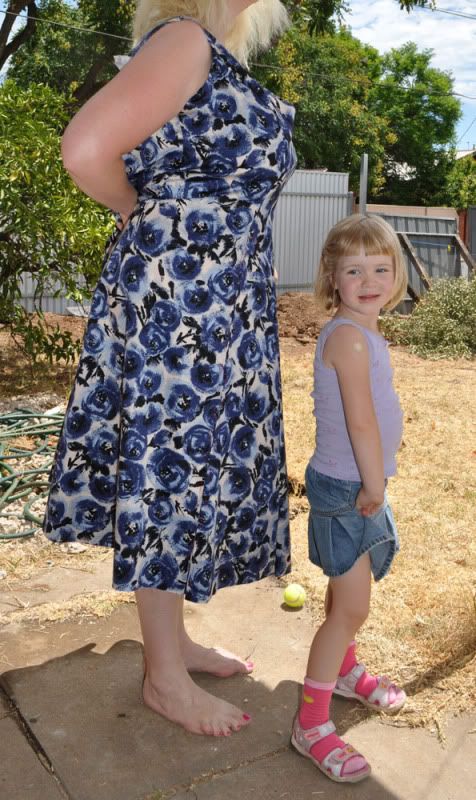 So off now to take in those multiple princess seams and have it look more like a fitted, flared 50's dress and less like a carnival tent complete with fairy floss hair!!
(Just looking at that sorry looking backyard... I wanted to add that the very makeshift gate gadgetry going on there is temporary whilst we wait for the new sliding gate to be made! As for the lawn or that yellow crunchy stuff in the background, it's what is left of our lawn after being sprayed in preparation for our new lawn.)