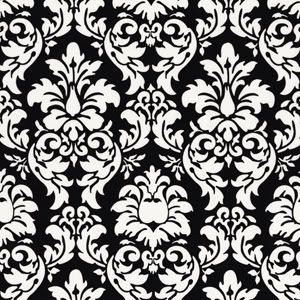 Hopefully my bedroom soon!
I have been toying with the idea of a black and white scheme for my bedroom for some time now. Only problem is, I can't get the above Michael Miller print Dandy Damask out of my head. It's the print I want. Only problem is that the print is only manufactured in quilting weight cotton, not upholstery, decorator weight fabric. Dang.
I can just see my chaise lounge and bed head both covered in this print. All the damasks I can find are too white in the balance of the shades. Ah well, onward with the search. And wouldn't it be nice to find a fabric under $100 a metre!!???