I love dogs.
Most dogs I meet I greet with smiles and pats if appropriate. Sometimes full on, can't hold it back excitement and adoration. I go out of my way to see dogs, talk about dogs, read about dogs, go to dog shows just to watch.
And that's cool. In my world it is. I don't know many other crazy dog ladies apart from one woman who is both our dog trainer and local vet nurse. She rocks. She understands my enthusiasm for canines.
As does Kelly, who lives in my neighbourhood. She also owns a
Pyrenean Mountain Dog
called Beau. Beau is big (think 60 - 70kg), beautiful and slobbery. He is the reason that I chose the breed for my next dog Banjo.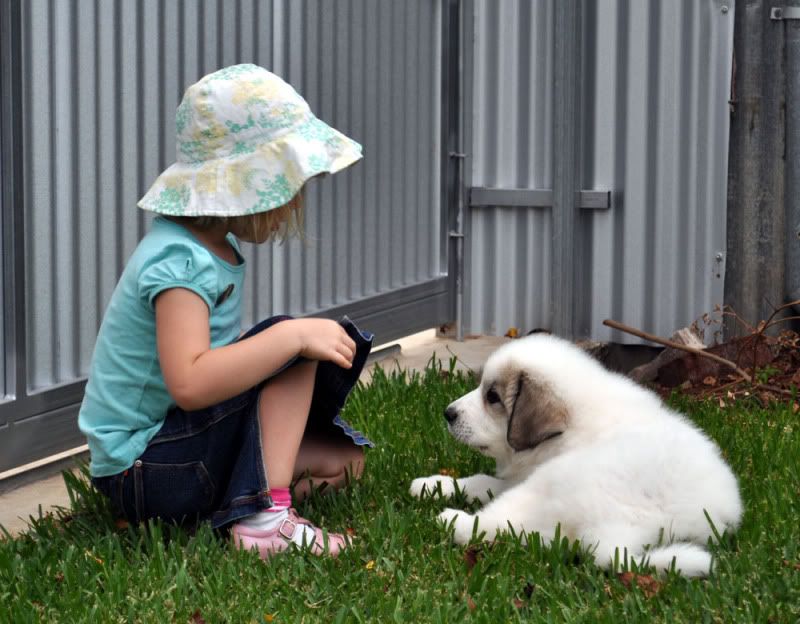 Poppet and Banjo at 2 months old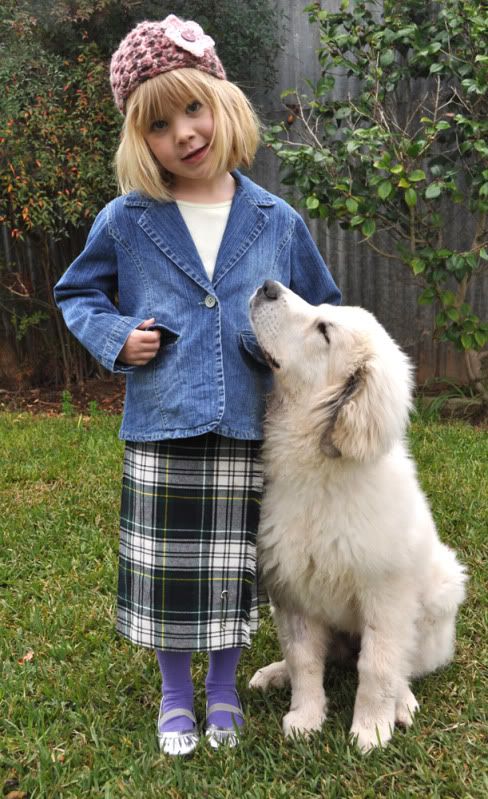 Poppet and Banjo at 5 months old
(small side note: nice thrifted authentic kilt $2 and thrifted jacket 50c!!)
So now that you understand that I have given myself the title Crazy Dog Lady you may appreciate that I am always on the ready to help any runaway dogs that are wandering the streets in my area. Just as we left the house on Thursday on our way to kindy, I spotted two black dogs running helter skelter past our house, no owner in sight. I screeched to a halt and jumped out to be enthusiastically greeted by the smaller of the pair. Thankfully he had on a name tag with his owners' mobile number on the back. The other dog came running back for her brother and I herded them into my front yard to keep them contained.
After a phone call, a confused then worried then grateful owner agreed to come and pick them up from my yard. My daughter and I continued on our way to kindy with my heart full of happiness and gratitude that those puppies had run by my particular house so I could help them get back home. I had done my good deed for the day. Those dogs were safe, together and on their way back home.
When I returned home, I was greeted at my door with a very appreciative owner with this stunning vase of tulips as her way of saying thank you for saving her dogs. Shucks. I don't rescue runaway pups for any reason other than I know the heartbreak of having your dog run away. But these spoils are so nice!!