This last weekend found our family garage sale hunting on Sunday. I came upon my most favourite type of garage sale. Garage sale of a lady in her eighties who was crafty. Bingo. Fabulous.
This is a sample of what I brought home with me. My poor husband just stood there as I went along, selecting things and passing them to him, loading him up. We had to create a pile on the lawn after a while!
Handwoven cane baskets, skirt hem measure, anodized coffee pot, Adelaide-made handbag, the softest of soft leather gloves, pudding steamer, leather hole punch, knitting patterns, gorgeous dish with handle and some Ornamin Ware by Melmac - fantastic melamine plates and bowls for the kidlet. Vintage kiddie bowls! Oh... and all for $8.
And the item that really rang my bell was the hard cover copy of Australian Womens Complete Household Guide. This is one of a series that Colorgravure Publications released during the 1950's. I have a small number of volumes from the series including The Australian Home Decorator and Painter, Complete Australian Gardener Illustrated, New Australian Home Carpentry, Australian Picture Handyman, and Practical Australian Motorist Illustrated.
These do it yourself books are wonderful snapshots of Australian life in the fifties. I've included the index from the new Australian Womens Complete Household Guide so that you might know what a Housewife would need to know in the fifties. And below that a sample of decorating ideas for your fifties home.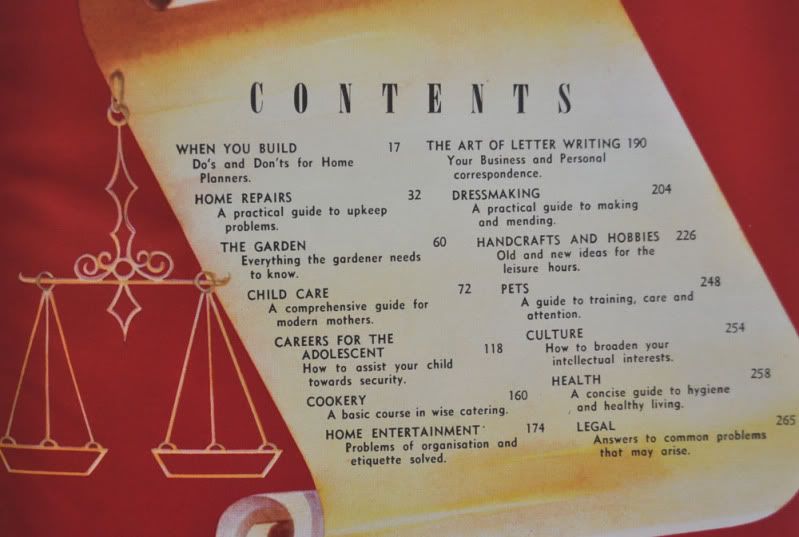 I have a spare copy of The Australian Home Decorator and Painter if anyone has a title that I don't have from this series that they would like to swap. Just flick me an email and we'll compare books!