Cindy has started a new blog called Handmade Help. She will be listing there all the auctions and sales of items from which the proceeds will go toward assisting victims of the Victorian Bushfires. So I've been busy and have pulled together a little blog button that you can put on your sidebar which when clicked will take you to the Handmade Help blog.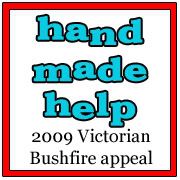 If you want the HTML for the button, just copy and paste the text in the box below.
Feel free to add this button your blog or sidebar so that everyone can keep up to date on what's to offer.