Yes, this is my 101th post. Hooray!
And hooray for me making it back alive and with a grin from ear to ear from the
Trash and Treasure
blogmeet
in Ballarat, Victoria.
I had been feeling a little mojo-less and very unmotivated in the post Xmas anti-climax. What better way to cure such ails than to drive 6.5 hours across country to meet up with people to whom you've never spoken and have a picnic!!??
I had a fantastic time, met some
far travelling
,
inspiring
,
hilarious
,
friendly
,
creative
,
well dressed,
welcoming
women and have come back home feeling very refreshed and excited about crafting and sewing again. Here's a picture of us all tucking into our picnic lunch. Thanks Jodie for the food!
After the picnic, off to Jodie's house for some afternoon tea, then off to Annie's place for a tour of her lovely garden, her exotic smelling front yard and pizza for dinner. By the way, there seems to be a lot of cats in Ballarat... and they sneak up on you when you aren't paying them any attention....
Trash in the middle, Lucy Lockett and Jodie hanging out with the chookens.
Of course, I shopped. Those of you who know me personally know that it's quite an achievement for me to spend much at all on anything for myself. But spend I did. At op shops on the way, at the delicious
Ballarat Patchwork store
(Emma, who owns the store, is not only a nice person too but absolutely gorgeous!!), at garage sales on the way home.... and yes, there are some good bakeries between here and Ballarat!
Thought I would share some of my finds....
Beautiful fabric that Jodie threw at me, literally, whilst soaking up the sewing mojo in her craft room. All perfect for the Silly Gilly store! Even the shabby chic pink polka dots will be loved!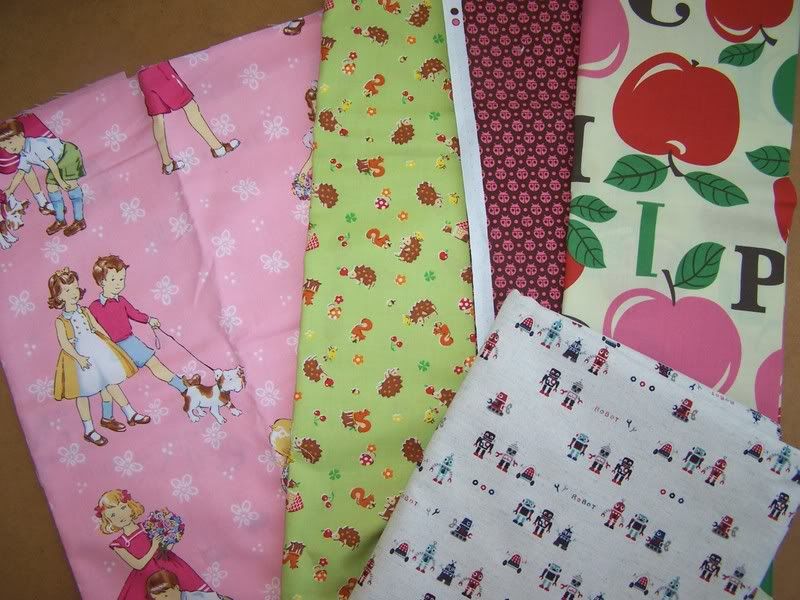 Some gorgeous Kokka japanese prints from Ballarat Patwork.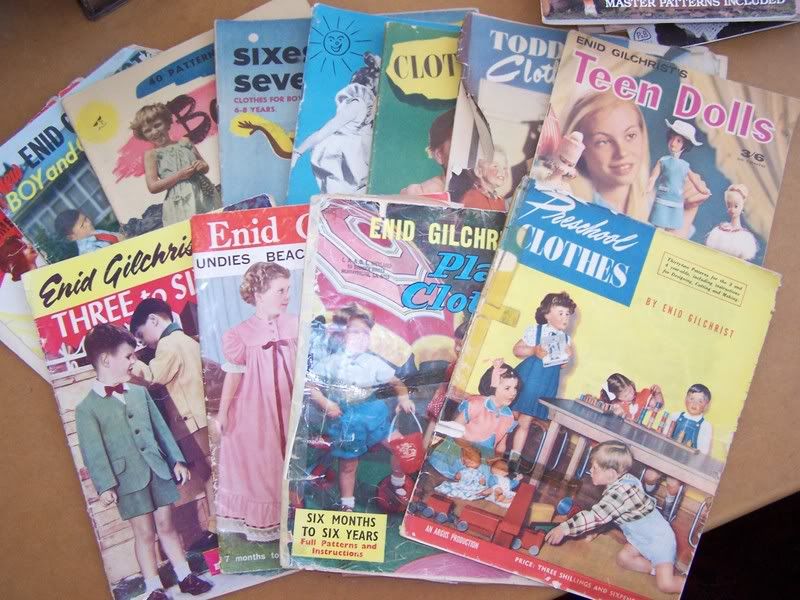 Have you ever seen so many Enid Gilchrist books snaffled in one go??!! I could have bought more but was starting to feel that I should leave the remaining books for other people. And below, more Golden Books, a gorgeous tin for my haberdashery and some bias.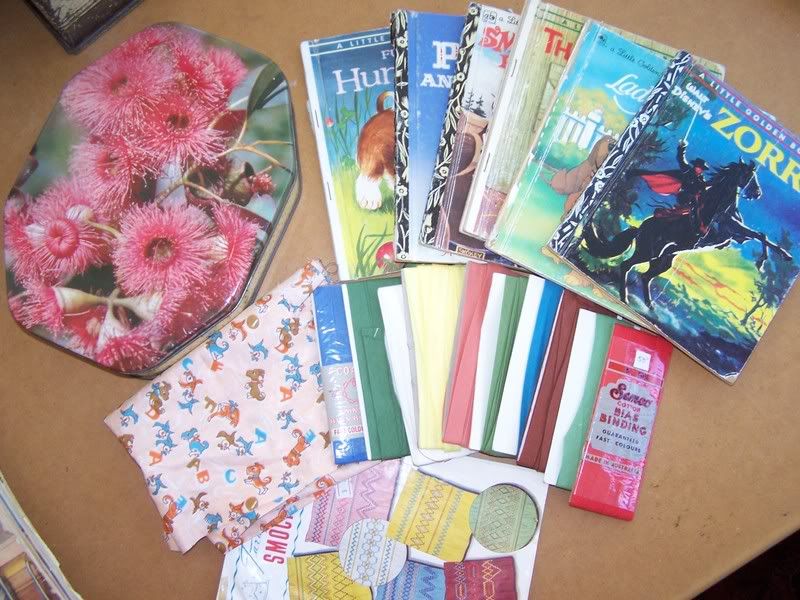 Lucky last is the lady on the front of this booklet I found. It makes me giggle... is she wishing her waist be small enough for the dress? Is she grimacing because her name is Lucille? Made me smirk anyhoo...