These last four years have gone past both so slowly and so fast! Four years ago I was busy birthing a 9 pound baby just on gas (yes I am proud of that feat!!). In four years my daughter has grown up to be a very articulate, crafty and loud little girl whom I'm immensely proud of. Oh the crafty things she loves! Just warms the cockles of my heart!! If she didn't like crafty things.... well, that's just not worth thinking about! tee hee...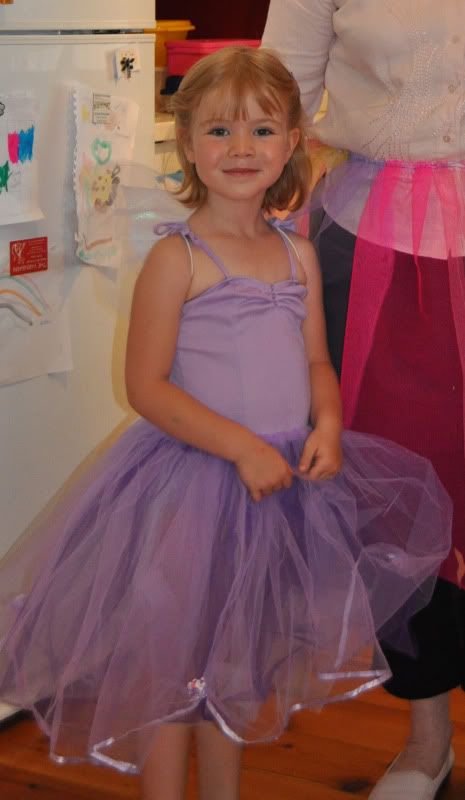 Anyhoo, the Alpha Mummy in me came striding to the fore this year. Well, actually I've been planning this birthday since before Xmas but don't tell anyone. Fairy was the theme and fairy it was. We had the fairy castle birthday cake, complete with little sugar fairies found at the last minute after months of searching! The cake design came from the
Women's Weekly Kids' Birthday Cakes
cookbook (the 2000's version). It was such fun making this cake and I had a ball using my vintage Tala icing set to pipe the windows, gates and vines from melted chocolate.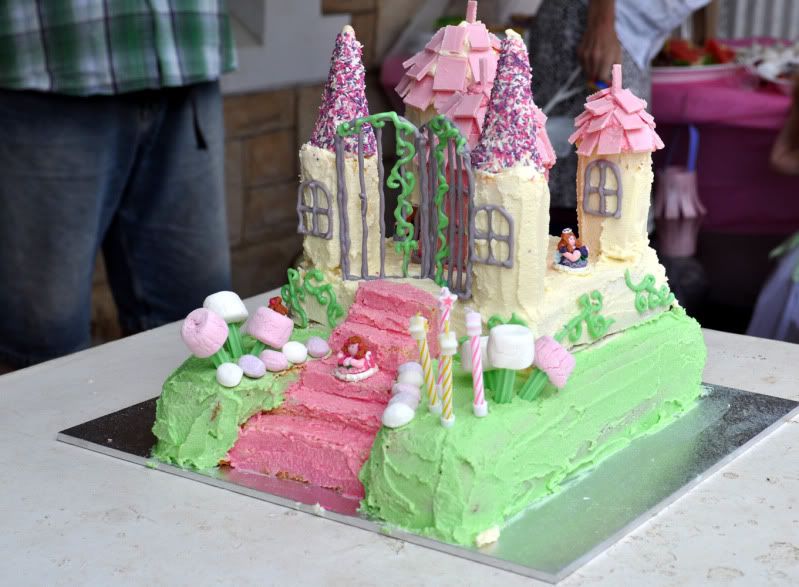 I used a new recipe for the frosting on this cake. I haven't been too charmed by other butter-cream recipes I've used, namely those from the kids cake books. So I tested a new type of icing using Copha as I was sure the day was going to be warm and didn't want the butter-based icing sliding off the cake!
Here's
the link to it... I used the Australian version, which is half the amount of the original recipe, and it still made bucket loads! The result was a beautiful icing which didn't have the overly sickly buttery taste of others I've used but still a lovely rich taste.
To continue the fairy theme I also ordered a super cute fairy wand cookie cutter on Ebay and was blown away by the wonderful customer service I received! I sell a lot of things on Ebay and try to be nice but often the transaction is just buy and sell. But this seller,
Riches and Realms
, was super helpful, emailing me with lots of ideas and suggestions, listing things specifically for me that she had in her stock. And super speedy postage and emails. Thought I'd pass on the good word if you had the need for cookie cutters or cake decorating supplies! As for the photo, this is shot is pre-baking time and I did ice the cookies but didn't take a photo!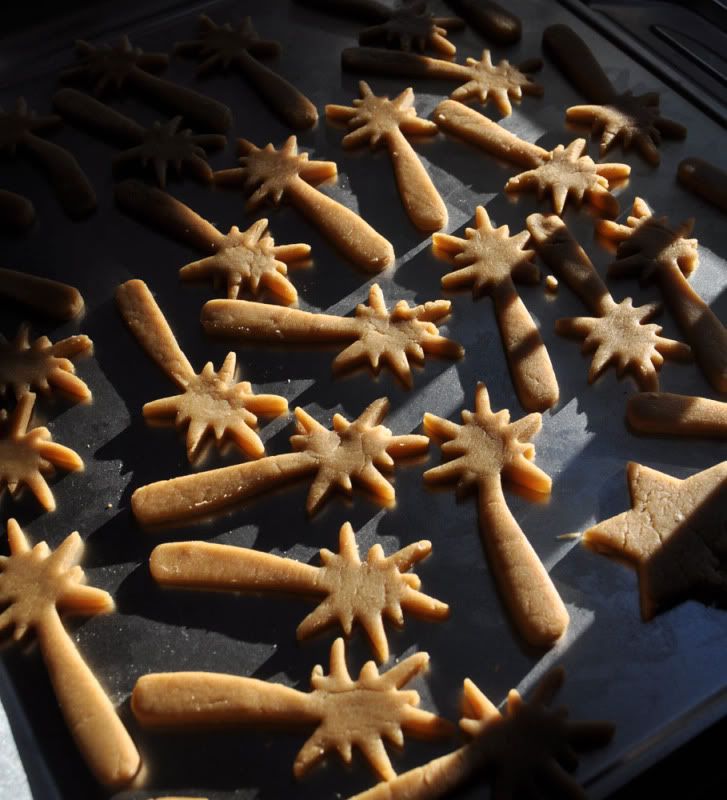 No fairy party is complete without fairy-fun-filled-party bags! I whipped these up using some cheap cotton the same colour as the fairy birthday girl's dress. Some simple love heart shapes sewn on with a vintage button embellishment. Simply cut the rectangles out with the pinking shears to save on hemming and cut out the embellishments with the shears too. A little zig-zag stitch up each side and you have yourself a fairy bag! Pink ribbon bows finished these off and inside were treats like bags of fairy dust I made up in the organza bags you can get at the $2 shops. Lots of glitter and those shiny sparkle scatter shapes and confetti!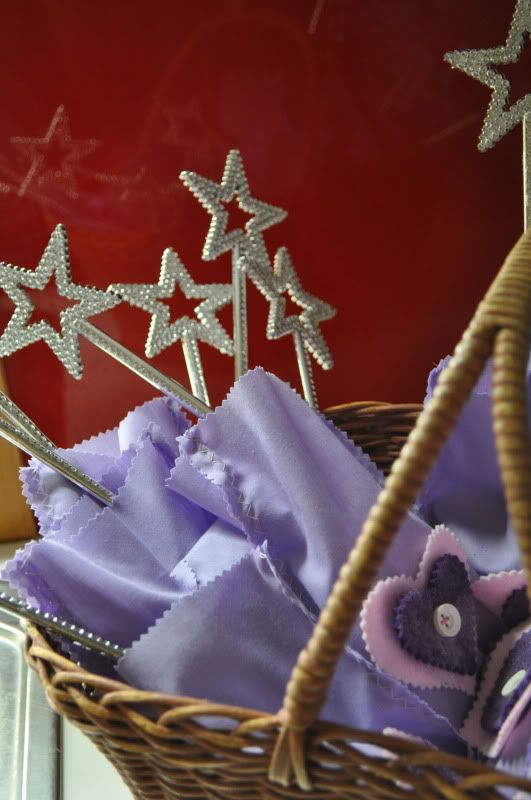 And to ease my post-party come down I thought I would indulge in some decadent self-sewing, and use a sweet vintage pattern I picked up on the weekend. I nearly fell over when I saw that it was in the vicinity of my size. Well my bust size that is! Seems like in the 40's, 50's and 60's not many lasses had bazookas my size! The fabric pictured with the pattern is one I picked up from ebay some time ago and is a lovely vintage polished cotton. I think I may have just enough fabric to make this dress. I've even impressed myself by making a muslin first two drafts as I don't want to make any mistakes cutting into this fabric! I've had to adjust the bodice BIG time and of course the raglan sleeves aren't making it easy. I'm attempting the full skirted version.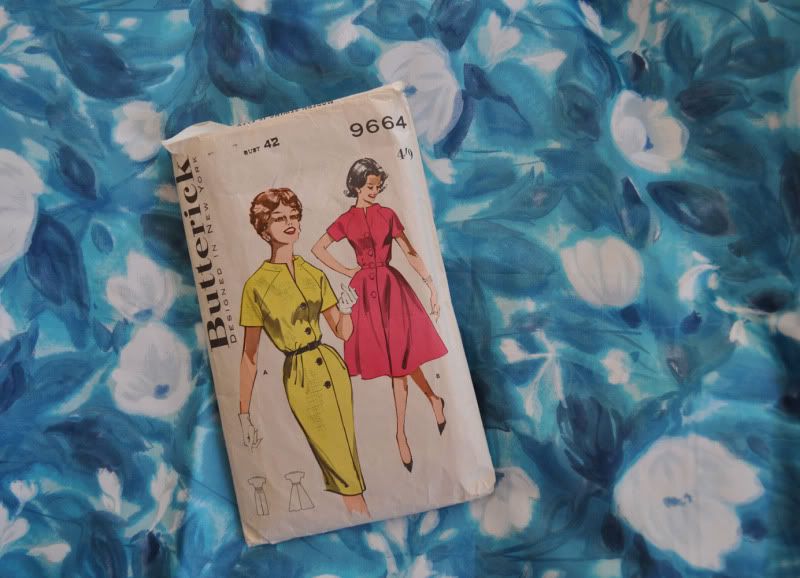 Now that 'The Party' is out of the way I've been thinking of my upcoming year, with my daughter at kindy and me swinging into bigger-time Silly Gilly mode. I've signed myself up for a WEA course on Pattern Drafting. It's a four week course '
giving you the skills to draft patterns from scratch
'. As I've been dressmaking for years and am still not confident in altering store bought patterns, I thought this course would be a good avenue to learn some new drafting skills. I also aim to be clever like
Nikki
and use my Autocad design talents to draft up some new kids' toy patterns I am currently designing.
So, one week to go till kindy starts, and I find myself alternating between being exasperated with a four year old's litany of questions (which start the moment she wakes me up) and a little teary that my one and only is off to the big wide world. Aw shucks. I've a tear coming again......